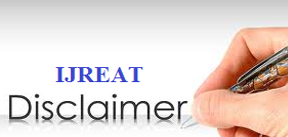 Neither IJREAT nor its suppliers or licensors makes any warranty whatsoever, including without limitation, that the operation of the Site will be uninterrupted or error-free; that any defects will be corrected; that the Site, including the server that makes it available, is free of viruses or other harmful components; or as to the accuracy, completeness, reliability, availability, suitability, quality, non-infringement, operation or result obtained from the use of any Content, product or service provided on, accessible from or distributed through the Site.

THE SITE AND ALL CONTENT, PRODUCTS AND SERVICES INCLUDED IN OR ACCESSIBLE FROM THE SITE ARE PROVIDED "AS IS" AND WITHOUT WARRANTIES OR REPRESENTATIONS OF ANY KIND (EXPRESS, IMPLIED AND STATUTORY, INCLUDING BUT NOT LIMITED TO THE WARRANTIES OF TITLE AND NONINFRINGEMENT AND THE IMPLIED WARRANTIES OF MERCHANTABILITY AND FITNESS FOR A PARTICULAR PURPOSE), ALL OF WHICH IJREAT DISCLAIMS TO THE FULLEST EXTENT PERMITTED BY LAW. YOUR USE OF THE SITE AND ITS CONTENT, PRODUCTS AND SERVICES IS AT YOUR SOLE RISK.

To the extent permitted under applicable law, no responsibility is assumed for any injury and/or damage to persons, animals or property as a matter of products liability, negligence or otherwise, or from any use or operation of any ideas, instructions, methods, products or procedures contained in the Site. Medical and health care providers should exercise their own independent clinical judgment. No suggested test or procedure should be carried out unless, in the provider's judgment, its use is justified. Because of rapid advances in the medical sciences, we recommend that the independent verification of diagnoses, indications and drug dosages should be made. Discussions, views, and recommendations as to medical or health care procedures, methods, products, choice of drugs, and drug dosages are the responsibility of the authors.